Hotel Elysee Montparnasse.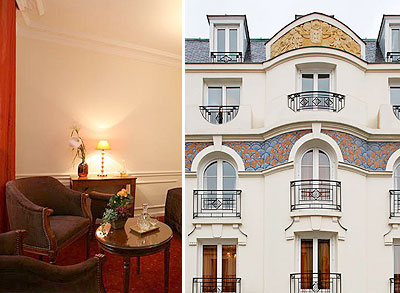 Hotel Elysee Montparnasse Paris
-
Hotel 3* star Paris near Montparnasse.
The hotel lies in a street which, with its five theatres, is unique in Paris. In the heart of the Montparnasse district, you will be able to find shopping centres, such as an annexe of Galeries Lafayette, fashion boutiques, perfume shops and supermarkets, all within 50 metres of the hotel. The very busy street of Rue des Rennes is one stop away by metro. Gare Montparnasse railway station and Monparnasse Maine Tower are four minutes walk away, offering a panoramic view over Paris and its surroundings. Montparnasse cemetery and shuttle buses to the airports of Roissy and Orly are five minutes walk from the hotel and Place Denfert Rochereau and the Catacombs are only ten minutes away.
Hotel Elysee Montparnasse.
11 bis, rue de la Gaîté
Paris
75014
France
Phone : + 33 (0)1 43 20 95 12
Fax : + 33 (0) 1 43 20 48 60